Holy Days
Holy Days or Moedim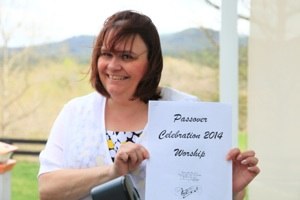 We celebrate the Feasts of Yahovah as they are instructed in the Torah. These Feasts were HIS Feasts (not a Feast of the Jews as many state today) and we are instructed to observe them for ALL time. This is for anyone that chooses to serve Yahovah and for those who claim Yahshua as their Messiah. These Feasts are called Moedim in Hebrew and mean appointed times. They are times when the Father comes to meet with HIS chosen ones and they have become a time of great celebration for us as we follow His instructions and rejoice that our names are written in the Lamb's Book of Life.
The Feasts of Yahovah are also shadow pictures of things to come. We need to understand that they are prophetic rehearsals that show us what the future holds for those who put their trust in Yahshua as their sacrifice for sin. Yahovah fulfilled all the Spring Feasts when He sent His son the first time nearly 2,000 years ago. When He sends His son the second time Yahshua will be coming as the conquering King and He will fulfill all of the Fall Feasts at that time.
We must study these prophetic shadow pictures so that we are prepared and ready when He returns. What a joy it is to be obedient to the Father and His WORD.
Salvation comes ONLY by trusting in Yahshua as our Messiah and making him the MASTER of our life. The proof that we have accepted Him as Messiah and we have turned our life over to Him (made him Master) is that we keep His commandments as stated in John 14:15. These Feasts are a joy and a blessing that we look forward to for months ahead of time as we come together to celebrate and rejoice in the blessings of Yahovah and they are outlined in His Torah and Scriptures.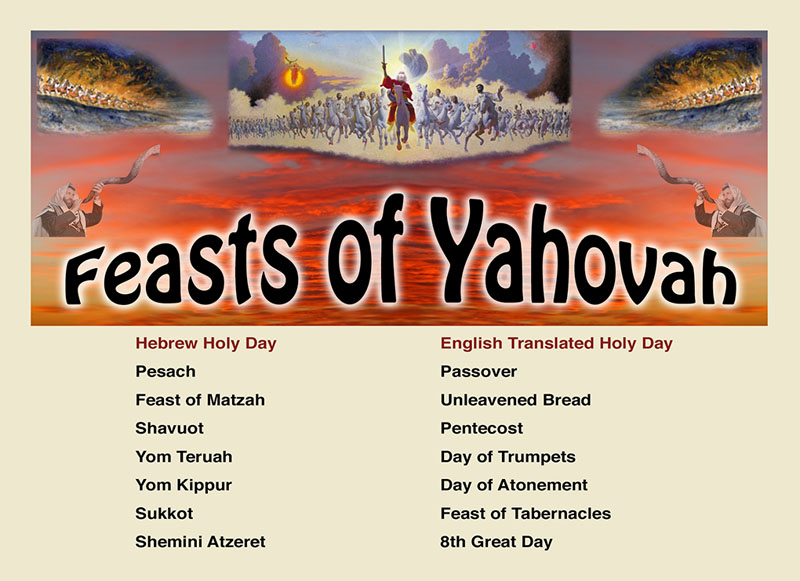 2018 Calendar of Holy Days and Holidays
Next years probable dates will be added this Winter.

FALL FEAST DATES MAY BE DELAYED ONE DAY AT YHVH'S DISCRETION:-) HE IS IN CHARGE AND WHEN THE MOON IS SIGHTED IN JERUSALEM IT IS OFFICIAL.
Yom Teruah / Feast of Trumpets –
HOLIDAYS THAT ARE NOT BIBLICALLY COMMANDED BY YHVH
*Purim and Hannukah are NOT commanded Feasts of Yahovah. We choose to celebrate them for several reasons but do not teach you must observe them.
We know from Scripture that Yahshua attended the Feast of Hannukah so if it was good enough for Him it is good enough for us. Hannukah is also a great celebration of Yahovah's mighty hand delivering his people from Greek sun god worship and we choose to celebrate this great event in Israel's history.
Purim is celebrating another great day in Israel's history which is recorded in the Bible in the book of Esther. We choose to celebrate this great Biblical event and enjoy a day rejoicing in Yahovah and praying for our brothers and sisters in Israel and around the globe.
We believe that there will be future significance in these dates in prophecy.
There is nothing wrong with celebrating Holidays that were not given by Yahovah as long as we don't teach it as Law and it is not pagan in origin.
**Important. We celebrate according to the Biblical account of time which means that the new month is determined by the sighting of the first sliver of the new moon in Jerusalem. With modern technology we are able to determine this ahead of time but there are occasions where it may be off due to weather or atmospheric conditions. That said, we set these dates ahead of time in order to allow our Fellowship and their invited guests time to plan their schedule. In the Scriptures we were commanded to come up to Jerusalem and the Temple. With no temple that is impossible so we follow Scriptures as best as we can today in "exile". We do not claim to be perfect in our interpretations but we do seek to follow the Bible as close as we can with the information we have available to us.
***We Celebrate the Feast Days from sundown to sundown which is the true definition of a day in the time of Yahshua and as declared by the Almighty in the Torah. Example……We list the start date which is sundown that day. The end date would be the following day at sundown for a single day Holiday or as we have written for the longer Feasts.